First of all, I would like to wish you guys a Merry Christmas and Happy Holidays, especially because in East Asia and Australia it's already the 25th. Hopefully your holiday season won't be full of craziness (like mine is)!
Second of all, have you watched the new Inanimate Insanity episode? That was, honestly, more packed with emotion than IDFB 1 was. I think Lightbulb is my new favourite character now!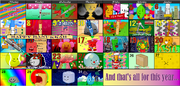 Ad blocker interference detected!
Wikia is a free-to-use site that makes money from advertising. We have a modified experience for viewers using ad blockers

Wikia is not accessible if you've made further modifications. Remove the custom ad blocker rule(s) and the page will load as expected.